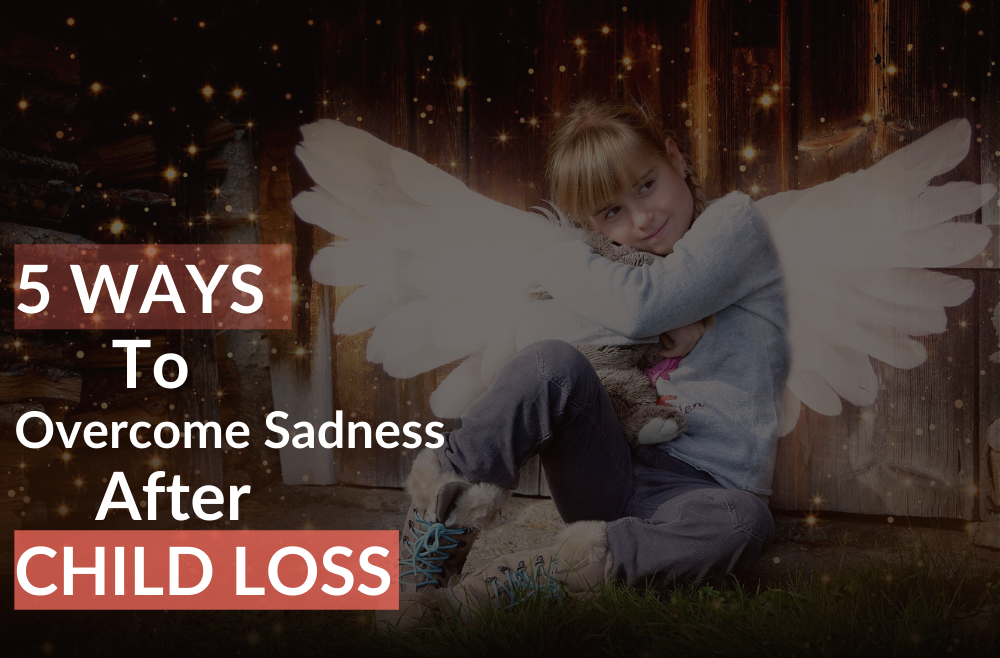 Overcoming sadness after child loss is the most challenging task anybody can ever endure. There are not so many ways or a formula to go through it. You just have to hope that things will fall into place someday.
Have you ever lost a child? 
If so, do you go through a rollercoaster of emotions when your child asks about their deceased sibling's whereabouts? (This one is definitely a tough one!)
Do you break down during such moments?
There is no pain as excruciating as that of losing a child. In fact, this pain  surpasses the joy witnessed in a baby being born.
You see, when you are expecting a child, you are over the moon with joy. You must be thinking...
"FINALLY, someone is on the way to continue my legacy."
"Someone is coming to take care of me when I get old."

"And someone is coming to lighten my grey days."
For some reason, we tend to imagine those little ones are here to stay forever. We don't think of Death when we think of starting families. 
Do you think this way too?
Hmmm… When we lose a child is when we get jolted from this funny imagination. 
Here at WonderSpark, we TOTALLY understand the pain and the sadness after child loss.
Ever since we launched our personalized memorial jewelry collection, we have met soooo many people with grieving stories.
Some grieving parents came to us to create precious keepsake jewelry so that they can keep the lasting memories of their fallen angels close to their hearts.
So, it got us thinking… How can we provide helpful resources to help these parents to cope with losing their child?
Because of our love to help, our team researched and finally put together this super helpful blog post that will show you 5 effective ways of managing grief after child loss.
If you are reading this, chances are you have gone through this kind of loss, or you know someone who has lost a child.
We hope that at the end of this blog post, we can put a smile on your face :)
How Knowing The Stages of Grief Will Help you Overcome Sadness After Child Loss
Overcoming sadness and grief first requires that you master the grief process. 
Yes! You need to recognize each step that you are in… and acknowledge them all!
In each stage, allow yourself to be sure you are in touch with your feelings completely. 
Do not let them overwhelm you.  The secret is to be stronger than what you feel.
Well, it's easier said than done, we know. Just do your best, and you will thank yourself for that!

⭐ 

From The Professional

Elizabeth Kübler-Ross, an American -Swiss psychiatrist, came up with five stages of grief. This was in 1969 in her best-selling book, Death and Dying. 

Her study came from having spent extensive time with terminally ill people. She noticed a similar pattern in how they processed pain, loss, and disappointment until their time of death.
Over the years, we have denoted this to be the same pattern people follow in all grieving processes. (Child loss is not spared).
If you are looking for an in-depth sharing of the grieving process, we highly recommend you to check out Elizabeth's book.

⭐ 

From Our Research of Hundreds of Real Life Stories

If you think reading a book is too much, perhaps you would enjoy our blog post on the Five Stages of Grief - Is Your Grieving Normal?


After reading through hundreds of real-life stories about grieving, we have put together everybody's grieving stories into five different stages.

We hope that through reading other people's stories, you can identify which stage of the grieving process you are in…

And, most importantly, know that YOU ARE NOT ALONE!

By now, you may be wondering when we are going to drop the grieving hacks. Well, let us not keep you.
5 Psychologically Proven Ways to Overcome Sadness after The Death of A Child
TIP #1. Take A Break from Your Daily Activities - give yourself time to process your feelings
See, the first part of such grief is  SHOCK. If you have experienced this, you know what we are talking about here.
Because you are in a sea of emotions right now, you need to take a break from the usual day-to-day life. Take some time to categorize your feelings and know what really triggers your pain. 
Are you experiencing an actual grieving pain?
Is it more of a disappointing feeling to never get to watch your child grow?
OR you feel out of place because death has taken away your plans and expectations for your child?
List them all out and see what hurts you the most!
It will be easier to deal with your grief once you organize yourself well. Be sure to take all the time you need to process each one of them, alright?


---
TIP #2. Start A Grieving Journal to Brain Dump Your Emotions - use words or pictures to digest your feelings



They say writing is a form of therapy. That's true! 
Look at it this way:
You want to convert your tears into ink and just paint out all your feelings on to your small world (the page, otherwise known as your safe zone)
Put down all the thoughts and what your plan would have been if your child would still be here with you.
The first blank page will be hard. It will be the most challenging part of it all. But once you hack it, you will have begun your coping journey. 
Remember, you don't have to fill a page. Just start by writing something as simple as I miss my child. That is all for day one. You can do something like this:
✅ Day 1: "I miss my baby!!!"
Each day try to go deeper into your feelings. Don't push it, though. Go to the limit you can take, even if it is one word more each day.
Day two, you can dissect into what exactly you miss. For example:
✅ Day 2: "I saw kids his age today, and my stomach could not stop twisting in pain. I miss him."
And on day three, you can list some of your best moments together. Something like this:
✅ Day 3: "I miss him so much more today. I spent a day in his room smelling his clothes. I vividly remember how he smelt like. I can feel his scent."
If you have their photos, put one on each page and describe the day that was. Talk about when you took the picture and what it reminds you of.
Before long, those days will turn into weeks, then months. Before you know it, you will celebrate one year of being courageous for your child.


---
TIP #3. Proactively Seek and Accept Help - remember people are VERY willing to help as long as you let them
This may be difficult for you at first.
If you don't feel safe talking to family or friends, join support groups of people with similar experiences and open yourself up. And you can do this from the comfort of your bed. Here are a few good ones for you to check out:
Grieving.com

: Here, affected people share their grief journeys. They create posts that other members can then chip in too. You have to become a member to read past 15 posts, though.
Grief in common

: You will join people with the same grief experiences in various chat rooms where you get to express yourselves freely.
Grief Anonymous

: here, you become a member of the grief anonymous Facebook page. You share your experience with others and even do live videos.
Seeking help also means getting professional help. You may want to visit a grief counselor near you or find a counselor online. The online counselors usually have toll-free numbers you can call and get assisted from wherever you are.
Always remember that people are VERY VERY WILLING to help as long as you let them.

If you are not ready yet, don't turn them away for no reason. Just let them know you need more time to yourself for now, and they will understand that.


---
TIP #4. Start A New Family Routine - it gives you a fresh start, and don't forget your other children need you too



Losing a child is listed as one cause of family breakages. Every one of you will process the pain differently. And yes, this includes your other children as well.
However small they are, they sure know when their brother or sister is missing.  Never assume that.
This is the period you want to spend more quality time together. Do fun activities and establish new routines.
Routines shift your minds to a different focus, and you want to do that at this point.
So get a plan, set your alarms, and make sure you repeat that process often to embed it into your system.
"And what about the times I don't feel like doing it?" You may ask.
As hard as you find this answer, that is the time you need to push yourself harder to be part of the routine.
The catch?
If you allow your family to manage the pain individually instead of doing it all together with a new routine, you may as well prepare to go through the grief process all over when the family breaks.


---
TIP #5. Purchase or Make a Keepsake - a great way to cherish the memories and feel grounded.
This is our favorite hack. It is also what we do best to help parents heal.
Here at WonderSpark, we are big on cherishing memories. We believe in holding dear all the good times shared by a loved one.
It does not matter how short-lived that was.
Here are some keepsake ideas we have for you:
❤️ Personalized Photo Jewelry Heart Necklace


SHOP Photo Memorial Necklace

Our most popular necklace! Have your child's photo printed on a heart pendant and get their name engraved on it. This personalized memorial necklace is perfect to keep your child close to your heart.
❤️ 3D Crystal Memorial Tower

These fancy crystal clear frames ensure the memory of your loved ones stay ever vivid in your mind. They have unique frames that you can improve to display some memorable pictures of your lost child. 
If you want to select a tower where that special memory will rest? Do so here.
❤️ Personalized Memory Box

Who said mourning has to be untidy? You can still mourn and be organized. Check out this awesome memory box. You can have it personalized to have the name of your loved one on the front part. After that, you put all the photos, jewelry pieces, and even the cremation urns inside.
❤️ Grieving Family Sculpture

Another great idea is to have a family sculpture with your deceased child in it. Unlike the rest of the family, the child will have wings to signify he left the earth. That sounds sad, we know, but he is still a part of the family, at least in the piece of art.
Feel free to browse around google, and you will find a lot more ideas. 
Trust us. Memorial keepsakes do help your heart to heal. Get one that you feel most resonate with if you haven't!
Grieving a Child Loss is Not Easy, But You've Got This!
Overcoming sadness after child loss may take longer, depending on your mindset.
Remember to always allow yourself to feel the pain in its entirety and take time off to process the whole situation. Also, be proactive to seek professional help because it can shorten your grieving process tremendously.
We do not promise that the pain will go away completely. But at least you will have learned how to coexist with it after reading and practicing the tips above.
We hope our sharing has been helpful to you and you're able to implement a few things to make your life easier.
We are sending you virtual love and hugs from Georgia! You've got this!
What method do you feel more inclined to use first?
Please share with us in the comment box :)
And let us know if you would like us to help you customize a memorable keepsake jewelry.