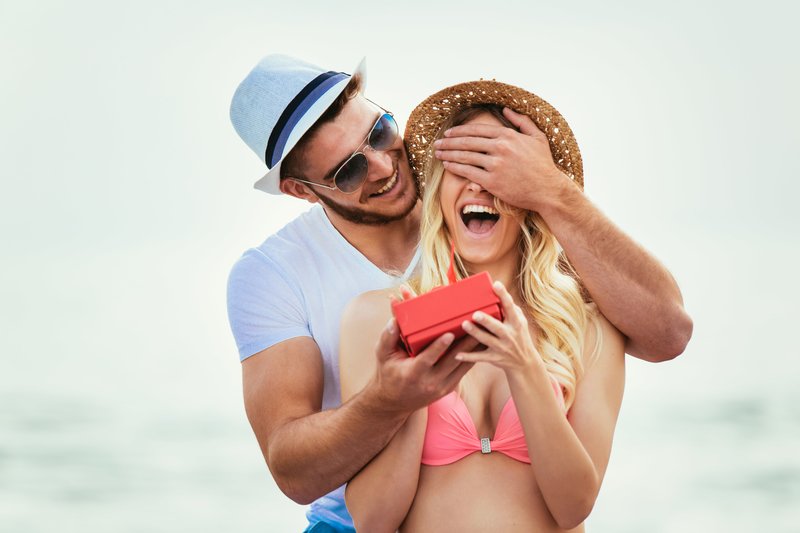 Your friend loves the beach.
She is passionate about saving the oceans.
This Christmas, you want to send her the most thoughtful gift and you're googling around to see if you can find that special gift for her. Is that you?
You've come to the right place. We have put together a list of 10 must-haves for that significant beach and ocean lover in your life that also gives back to the ocean. 
At WonderSpark we care and research a lot about the oceans. This has led us to create our ocean-themed earring set, featuring 7 endangered ocean species. It is our mission to raise awareness of preserving our beautiful oceans for future generations. Rest assured, the 10 gifts that made our list are making an impact on the oceans too!
Why Does She Care About Beach and Ocean So Much?
There are a lot of things we are dealing with in life already, like money, relationship, work, why should we care about the ocean that we only see once or twice a year? Your friend may have not told you the reasons why she wants to save the oceans, let us give you a few good reasons for her choice 😊 
Part of the reason is that the use of plastics increased drastically in the past years, and we don't reuse as much plastics as we could, which causes them to end in landfills, which can then pollute the oceans.
More than half of the plastics that enter the oceans are less dense than the water, meaning that they will not sink. They just stay at the sea surface, slowly gather into a patch, and eventually becomes an island of garbage. The sad news is they are NOT leaving anytime soon until they degrade into smaller microplastics under the effect of sun, waves and marine life. That can take up to 1,000 years! Holy moly!
Billions of tons of plastics have been made in the past decades, and a big part of it becomes trash. You may think that we're doing a good job in recycling plastics as our government has recycling programs set up everywhere, but no! Only 9% of plastics has been recycled. The vast majority— 79% —is accumulating in the environment as trash. Meaning that at some point, much of it ends up in the oceans, the final sink. Not cool at all!
How Conscious Gifting Will Save The Oceans?
Now that you learned about some of the reasons why your friend might prefer an ocean-conscious gift over a regular, nothing-special gift, would you still buy anything without giving another thought?

>> Don't Buy Her Regular Clothes
One of the most preferred girl-friend gifts is probably CLOTHES. Funny t-shirt, cool scarf, cozy socks. Most clothes contain plastic —a kind of plastic that's being washed away in our washing machines, straight to the oceans. They are not that ocean-friendly :(
>> Don't Buy Her Regular Cosmetics Products
You might ask how about cosmetics? It ends in the ocean, too. There are chemical ingredients found in cosmetics, that can be harmful to fish and other sea life.
❤ These reasons are just on top of our heads, but probably more than enough to rethink your perfect gift this year. 
Our Top 10 Picks on Purpose-Driven Ocean Gifts
Why We Chose It?
This earring set for ocean awareness includes 7 pairs of sea animals earrings of which the sea animals are facing endangerment due to human activities and environmental change. You can choose one or adopt all these 7 adorable sea animals to show your support for ocean preservation today! We are sure your ocean lover friend will be proud of wearing them around.
#Giveback: 
WonderSpark donates 10% proceeds of the Wonders of The Oceans earrings collection to support ocean cleanup, marine animal rescues, habitat research and more.
What Do Others Think?
Shandi D.: To be honest, prior to receiving these earrings, I was not fully aware that each of these creatures was facing these particular problems.

 

Emma L.: This earrings set is so cute. I love the cause it supports too. My favorite is the whale earrings.
---
Why We Chose It?
We love how warm this towel feels when you wrap yourself up after getting out of the water. It is very soft and very absorbent, which we think it's very important when it comes to drying yourself up fast. Another plus point is that this towel is much more durable, longer and wider than a regular beach towel. Perfect 'oversize' to wrap yourself up like a baby :)
#Giveback: 
Laguna Beach Textile Co. reserves parts of their profit for different organizations working on land and marine life preservation. All excess and returned (non-damaged or used) products are also donated to local animal shelters. They are such a socially responsible company, that's why we love them so much!
What Do Others Think?
Mariana: It's comfy, easy to clean and so photogenic! Laguna Beach Textile Co products are all so cute and the quality is outstanding! Sure would recommend.

 

Katie: Love the quality and style of Laguna Beach Textile Company! I got the Cabana towel and the Turkish towel. Both are super soft and feels great against my skin.
---
Why We Chose It?
A beach bag has to be stylish, water-resistant, and sturdy and this bag has it all. It may look like a regular canvas bag, it actually has a built-in waterproof lining, so you don't have to worry about your belongings getting wet. We love it so much more than others because it is eco-friendly. It feels so good to bring this bag around when you know you're supporting a company that is doing great things for our environment.
#Giveback:
EcoRight bags are only packaged in bio-degradable material made from corn, wheat, and potato starch. That being said, all their packaging is compostable and will not end up in the ocean as permanent trash. This company also donates 1% of all profits to causes supporting the environment, as well as to support children for a brighter future. It's so great to see a company doing so much for our environment and the future generation.
What Do Others Think?
Augustine: The bags are sturdy and functional. Very satisfied and would certainly recommend!

 

Erin: EcoRight is the only bag I use. The quality is amazing and I love the designs as the environment is one of my biggest worries as the years go by.
---
Why We Chose It?
We love this sunscreen because IT WORKS! It is also 100% natural and GMO-free which makes it suitable even for the most sensitive types of skin and for kids. It's packed with antioxidants and healing essential oils, such as organic coconut oil, organic jojoba oil, shea butter, and more awesome stuff. The most important thing is that it won't sting eyes or run, what a great bonus for parents! Yep, it's not cool to see your kids crying of burning eyes.
#Giveback:
Little Hands Hawaii is very eco-conscious when it comes to their products. This sunscreen is completely ocean and coral reefs safe. It comes in a recyclable tin and 100% biodegradable labeling and packaging, which makes it completely earth-friendly. How can you not love a company that cares about our environment?
What Do Others Think?
Decilia: it blends in perfectly and actually gives you a nice base so you know you're covered. Stays on for a while and I barely have to re-apply. I love it!

 

Leslie: I have three fair skinned children that burn really easily, and we spend a ton of time at the beach. I have searched high and low for a product that is easy to apply and doesn't irritate the sensitive skin under their eyes. This is by far the best sunscreen I have ever used, it actually works and I love that it also keeps our oceans toxin free.
---
Why We Chose It?
This hat caught our eyes at first for its chic and organic design. We then fell in love with it, even more, when we knew that it's handwoven out of all-natural and recycled materials. The design is stylish and made in such a way that it let the air flows easily. It's a must-have beach accessory that keeps our environment in mind.
#Giveback: 
Gipsy & Lolo is huge in giving back to our environment as they want to provide a great planet for the future generation. They support Greenpeace Fund to protect the Arctic wildlife and oceans, and many more environmental organizations. For each sold item, they plant one tree, too. Totally respect this company for what they do for our planet!
What Do Others Think?
Kelly: I just bought one of your hats in Whole Foods. Great styling, comfortable- very happy with the faux suede strap too!

 

Pyrena Zosime: It's a hard choice between the Peruvian and the Waves cap as my favorite. I love both of their vibrant colors.
---
6. Swimwear by Jeux de Vagues
Why We Chose It?
It's surprising to hear that swimwear can be made with recycled water bottles and abandoned fishing nets! Whaaaaat!? And Jeux de Vagues, a company founded by a passionate women surfer made it happened! Their swimwears are not only unique in the materials used, but also very stylish, durable and recyclable. Salute to this wonderful eco-friendly creation! 
#Giveback:
Jeux de Vagues is doing such a fantastic job at cleaning the oceans by turning plastic wastes into beautiful and useful swimwears. They are also committed to giving back to the environment and are a proud member of 1% For The Planet,which is a global network of brands who collectively help fund diverse environmental organizations.
What Do Others Think?
Surfer_jade: Still my favorite surf outfit

 

vegandiverkatt: Wearing your stunning upcycled swimwear is a start to protect our oceans.
---

Why We Chose It?
There are many sandal choices out there but we especially love these beach sandals because it's made of patented bio-based materials, which is 45% soy and 100% vegan. Apart from being 100% recyclable, these sandals are very lightweight, durable as well as water and slip-resistant, perfect to wear at the beach and swimming pool. If your friend is a minimalist and an environmentalist, she will definitely love you for getting her this pair of sandals!
#Giveback:
Third Oak is committed to create recyclable, cruelty-free, vegan products and have them responsibly made in the US. Their worn-out sandals or flip-flops can be sent back for recycling, making your shoes' entire life cycle landfill-free. 
What Do Others Think?
Susie: I have 2 pairs of the Scout and love them. Comfortable and cute. I can't wait until my Journeys arrive!

 

Corey: This is my favorite pair. The fawn gold is beautiful. I wasn't sure how well this color would hold up, but I wore them all summer and fall, they still look new! The back strap is very comfortable and make these easy to walk in all day.
---
Why We Chose It?
The sunglasses at Woodzee are 'not your typical' sunglasses, that's why they got our vote. Their sunglasses are made with all-natural materials like wood, bamboo, and even with recycled wine barrel (are you kidding?), yet they look very stylish and functional. Their lenses are polarized and offer 100% UV400 protection, shielding your eyes from harmful UVA and UVB rays. Nature, style, and protection all in one, we can't complain more!
#Giveback:
Woodzee set up a program to recycle customers' used and damaged sunglasses to prevent them from being thrown away and potentially end up in the oceans. They are very committed to a sustainable future and to improving the environmental well being of the community and our planet. We want to thank them for doing their part for our planet!
What Do Others Think?
Giovanni: Best Xmas present ever!!! Thanks a lot guys!

 

Nikki: I love these all wooden frames with mirrored lenses. 😎
---
9. Kaftan by Anatolico
Why We Chose It?
We love creative! Anatolico has put a modern spin to the classic Turkish towel by turning it into a stylish beach robe, Kaftan. Their kaftans are very lightweight, absorbent yet dry quickly. Each of them is handwoven by Turkish artisans, in an old traditional way, which makes them unique and not over-produced. It's a perfect companion for the beach or even at home.
#Giveback:
Anatolico conserves our planet's resources by making sure their production is energy-efficient. Their products are also safe for the oceans as they don't leave after-washing microplastic that usually comes from other non-natural materials. 
What Do Others Think?
Parker: We've bought many of your towels and continue to LOVE them!! 💖

 

Ambercet: Loved the kaftan...it's for my mother, so I am excited to give it to her on Christmas!
---
Why We Chose It?
We love this beach blanket because it can be used in so many ways, such as tea towel, hand towel, bath towel, throw, and table cloth. That's a lot of usages! Made from all-natural blend of cotton and hemp, this beach blanket is very lightweight and gets dry very quickly. It also comes in a great size. Perfect to use as a blanket and towel on the beach.
#Giveback:
Virginia Sin makes 100% organic, naturally dyed and hand-woven beach blankets, which means the production of these beautiful blankets are very energy-efficient, leaving less carbon footprint.
What Do Others Think?
Modestmarce: seriously in love with every color you've naturally dyed! 🙌🏼

 

Bethkirby: Have it and love it!☀️
---
Did you like our beach lovers' gift ideas?
Which one is your perfect gift?
Don't forget to share it with your friends and family. The more people you share articles like this one with, the more people will begin using products that are safe for the ocean and environment in their everyday lives.
Do you have a suggestion for an eco and ocean friendly gifts for this Christmas?
Share it with us, we would like to know more about ocean-conscious products like these.