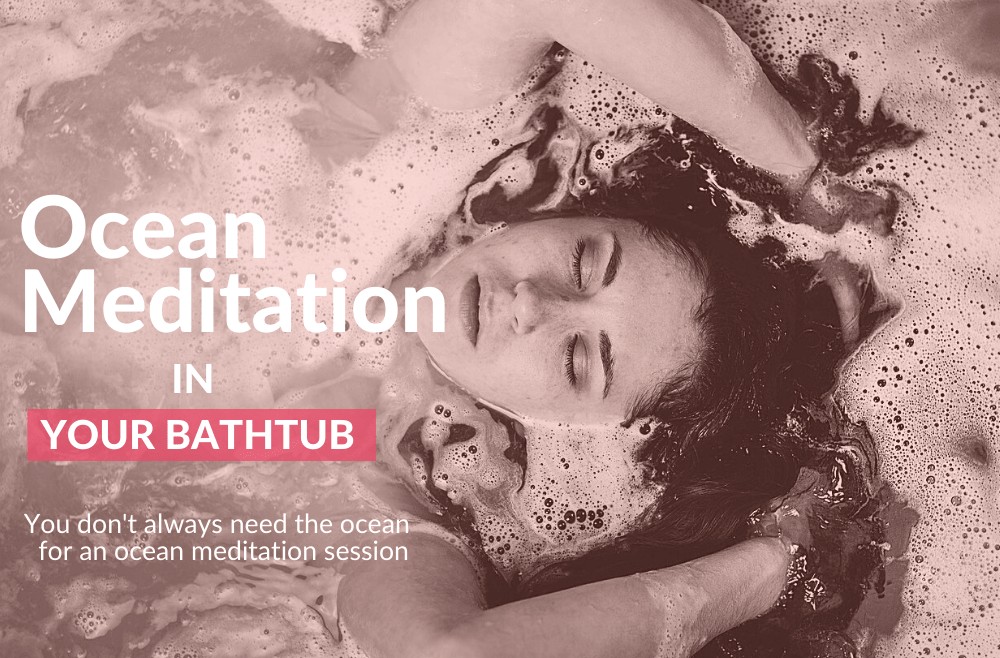 What's your thought when you see the title of this blog post -  'Ocean Meditation in Your Bathtub'? Are you more excited about the ocean or meditation... Or just the bathtub?
Summer is just around the corner, but because of the pandemic, the ocean and the beautiful beaches seem sooo far away! We are pretty sure this pandemic has also brought about some unintended troubles for you, isn't it? 

You may even have to deal with the side effects that come with the quarantine, such as anxiety, PTSD, panic attacks, and Zoom fatigue. For that, meditation seems like a good way to relieve your stress, even better, when you can do it by the ocean! Imagine you are now sitting on the soft white sand, listening to the soothing ocean waves and an ocean breeze gently sweeps through your face... How relaxing is that!
Today, we at WonderSpark, want to show you how to bring the ocean to your home for an experiential ocean meditation that you will later brag about so much!

… and you are going to do it right in your bathtub :)
2 Reasons Why This Ocean Meditation Is So Much More Effective than Your Regular Meditation
✅ 

The Calmness of The Water Helps to Induce A Mindful and Meditative State
Did you know that water makes up to 60% of our bodies, and constitutes 73% of our heart and brains? Water is literally everywhere, including inside us... in large quantities!
Can we say that we are literally made up of water?

Well, kinda!

So, it makes sense that water can connect to us energetically and induce positive emotions of calmness and productivity in us.

Also, immersing just your feet in the water is also useful in that regard. Especially if you have a phobia of water. This way, you can still enjoy the benefits.
✅ 

The Sound of Ocean Waves Helps People Sleep Better
Yes, you read that right!!
Listening to the sound of water crushing rocks and sand nearby is quite therapeutic and signals deep relaxation sensations to the brain. 
Associate professor at Pennsylvania State University, Orfeu Buxton explains that the slow whooshing sounds created by the ocean waves, signal that there are no threats nearby. Almost as if they keep reassuring you,'don't worry, don't worry'.

We don't know about you but if someone keeps whispering 'don't worry' to us, we will surely sleep like a baby :)

With the mindfulness ocean meditation session you are about to learn, you will be able to reap the benefits of ocean waves and sleep peacefully at night.
After your mindfulness ocean meditation session in the bathtub, you're guaranteed to sleep peacefully and with ease. 
We don't know about you but if my mind and body keep signaling that there is no danger and that we can peacefully relax, we're definitely giving in to that feeling. 
Let's get the fun started!
The 4-Part Mindfulness Ocean Meditation Session
Think about this meditation as your birthday party. You want the ambiance right, the decoration fits perfectly to your party theme, and most importantly you dress up like a superstar to enjoy the full-blown experience of your party.

Are you ready for the full-blown ocean meditation experience?
Part 1: The Set-Up
The most important thing of all is to get the ambiance and the atmosphere of yourmindful ocean meditation practice right. We are going to give you some ideas on how to set up your bathroom to feel like you're just right by the ocean. Sounds good?
(i) Candlelight is a Must!
 Lighting is one of the very important features on any given occasion. 
So to experience an extravagant and realistic mindfulness ocean meditation session, you have to imitate part of the orange sunset-colored sky above the ocean. 
And what best way to do this than to use Ocean decorative candles? Or better yet, you can use flameless candles to avoid the risk of fire and they are very durable. Check out the pictures below for some candle ideas. 
(ii) Oh~ The Aroma
Studies have shown that the smell of ocean mist from the ocean can be quite useful as an antidepressant. 
To give you a more surreal ocean meditation experience, you can prepare some Ocean Scented candles or use an essential oil diffuser to diffuse a clean and refreshing smell to your bathroom. 
(iii) The Exciting BLUE Water
To bring the full color and induce the full benefits of the ocean, use blissful Bath Bombs. Did you know that bath bombs are not just here to change the color of your water blue? They are usually made with essential oils to pamper your skin.
So, at the end of your ocean meditation, you will leave with your skin feeling soft, silky, and looking youthful! 
You definitely can't say no to that. 
 (iv) The Ocean Music Playlist
To really solidify and optimize your ocean meditation experience, adding relaxing music with ocean waves is definitely a good idea. Here are our two favorite ocean music playlists. They both have millions of views, and we are sure you will become a fan too! 
Playlist 1: Ocean Music Playlist With Piano
Video credit: Soothing Relaxation

 

Playlist 2: Relaxing ocean waves lullaby style


Video credit: Soothing Relaxation
---
Part 2: The Dress Up
Now that you have nailed down the ambiance of your bathroom, it's time to immerse deeper into this experience by putting on your favorite beach outfit.
(i) Your Favorite Beach Clothes
Part of creating the right ambiance is your outfit. 
Choose something that you love and make sure it is comfortable so it deepens your oceanic experience. We love the Marshall Rashguard bikini set by Jeux de Vagues. 



Image credit: Jeux de Vagues

(ii) Ocean-Themed Jewelry
Want to take your ocean outfit to the next level?

Pair it with your favorite ocean-themed jewelry, such as seashell bracelets, beach anklets, and if you have pierced ears, you can check out our adorable Sea Animals earrings too!.

We, at WonderSpark, have designed a charity-inspired ocean-themed earrings collection — 7 Wonders of The Ocean featuring 7 endangered sea animals to promote ocean awareness. We thought you might be interested to check out our most popular Sea Turtle Earrings, Starfish earrings, Penguin earrings, Dolphin earrings, Shark earrings, and more!
Feel free to bring along one of these super cute ocean friends to join in your ocean meditation.

Our '7 Wonders of The Ocean' Earring Sets

(iii) Beach Towel
Oh, one last thing!

You're definitely going to need a warm beach towel nearby, for when you're done meditating. Sandcloud beach towel has quite some nice, exotic beach towel collections for you to choose from. Just like our sea animal earrings, they are making donations to charity for their beach towels too!


Image credit: Sandcloud beach towels
---

Part 3: The Meditation
Now that you have the right scent, ambiance, and decoration for your meditation flow, it's time to experience some mindfulness magic. 
(i) Easing Into The Meditation Session
Count to 10 while taking deep breaths and with every exhale, melt and relax into the bathtub. This will help you clear your mind of any thoughts you have at the moment. 
(ii) Painting A Picture 
Picture yourself at the beach with your family. Imagine you are eating delicious strawberries while sitting on your favorite beach towel. Your kids are running around, and for a little while they just jump on you and kiss you. 
You can see your kids building sandcastles beside you. You can hear them laughing and being so happy to be by the ocean. Your mind is clear of any thoughts and you're just observing your surroundings and assessing your peaceful emotion. 

Don't forget to take a little moment to enjoy the beautiful sky and feel the cold breeze on your skin. You are just there to appreciate the beauty of the ocean and the precious family moments.
(iii) Choosing A Focal Point For Effective Concentration
Whenever you break away from your concentration, use your breathing as an anchor to clear your thoughts. Focus solely on breathing and further melting or easing into the bathtub. 
---

Part 4: The Get Up
After your meditation session has ended, which is about 15 - 20 minutes, do some activities that will keep your mindfulness engaged. 
Remember to take some time to congratulate yourself on finishing your ocean meditation flow. This will definitely help with personal positive reinforcement. 
Then, set the intention to maintain mindfulness in everything you do during the day. This will definitely help you stay mindful throughout your day.

---
Aaanndd  you can also check out some meditation and mindfulness quotes by great spiritual teachers, such as Eckart Tolle, so you can always be reminded of the beauty of meditation. 
After this session, will you view your bathtub the same way? We guarantee you, you won't. 
We hope you are able to follow our guide to creating an ocean meditation flow that brings you joy.

Namaste and happy meditating. 
How would you set up your bathroom for your mindfulness ocean meditation?
 Let us know in the comment section, maybe others will get some inspiration from you too!