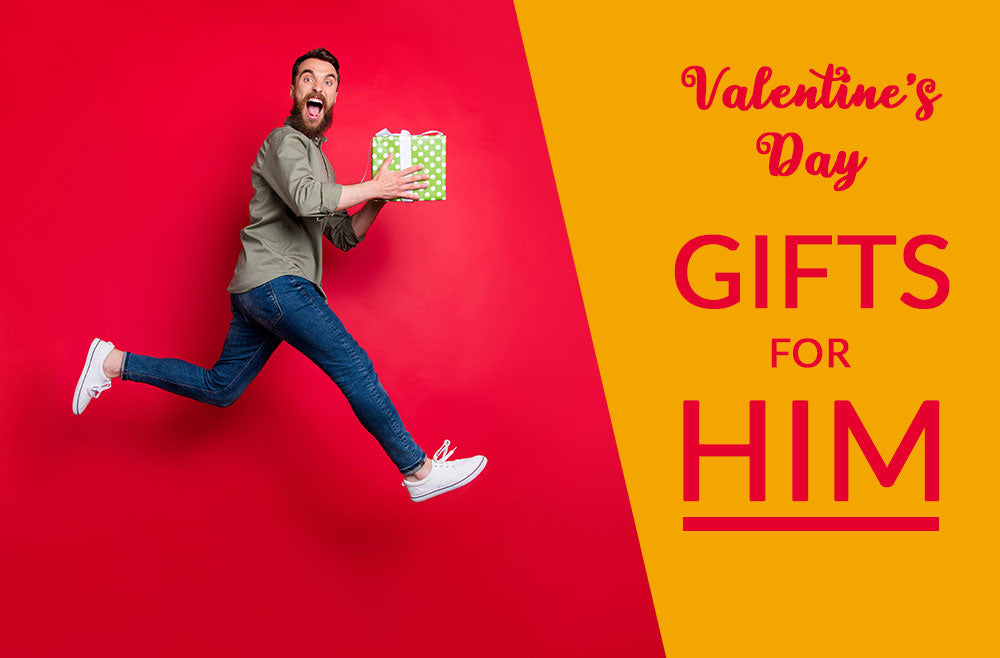 Ah, February 14th, Valentine's Day!
Yes, that day is approaching with the speed of light.
It's amusing how we know all the important days, but then they appear out of nowhere, catching us unprepared and unplanned for. 
This year promise you'll try your best. 
Don't worry, we are here to help.
Not only to remember the day better, but for a day that will always be remembered. 
You already know that one of the inspirations for our WonderSpark products is LOVE. All kinds of love, bonding, and appreciation. 
And even though we don't have man's jewelry (yet), we do appreciate great meaningful gifts like the ones that you will find in this list.
Our Top Valentine's Day Gifts For The Man In Your Life
Why We Chose It?
We love this photo puzzle as a gift because it's fun and lovely. You can choose one particular picture from both of you, the whole family, or something meaningful to your spouse. Or choose to make a collage with multiple photos. The photo puzzle is of the highest quality and will last more than chocolate. Depending on how much you want to challenge your man, choose the number of puzzle pieces, and get ready for fun bonding time. 
What Do Others Think?
Marlene H.: I just opened my 1000 piece photo puzzle. The quality of picture and the pieces themselves are excellent. I have purchased 9 puzzles all together for friends and family. Each one of them has adored their puzzle.

 

Eric Neznik: Fantastic gifts! The puzzles arrived promptly and looked great. This is my third time ordering from Venus; each experience has been flawless. I really like the quality of the puzzles—both the visual aspect with the photo and the durability and thickness of the pieces. Couldn't be happier!


---
Why We Chose It?
We thought this star map art is such a cooooool and creative way to say 'I Love You'. The design is a projection of what the stars looked like above when a special moment happened in your life. Very modern and stylish. It's a unique piece of art that sure shows your man how thoughtful you are.
What Do Others Think?
Kayla O.: It looked beautiful and my fiancé loved it, thank you so much. Got here in good time too. 😊

 

Sara J.: The modern map was the perfect gift to give my husband for our anniversary. The text and star map came out perfect. He was over the moon about it and wouldn't stop talking about it. It's currently hanging in our dining room and it's the perfect discussion piece with our friends when they visit.
---
Why We Chose It?
We love this wooden watch because it's unique and very personable. It can be customized and engraved with your message, initials or date, which makes it a perfect gift for husband. They have a choice of different types of wood and they are lightweight and stylish. The engraving is clear and your hubby will never forget your anniversary again. 
What Do Others Think?
Sealmond1: My husband loves this. He likes that it is more comfortable than the big bulk ones or the metal ones.

 

Sabrina: I truly recommend this product. The quality and the engraving is more than marvelous. Brought it for my boyfriend and loved it!
---
How About Your Plan For The V-Day?
Whether you and your significant other have been together for years or just a little while, we'd like to remind you that the ultimate Valentine's Day gift is time spent together.
Here, we've rounded up the absolute best things to do on Valentine's Day, that are perfect for both of you or the whole family. 
1. Recreate your first date or another special day from your relationship
Bring back the time when all the best memories of you started, the place of your first date, the place where you first started falling for each other, or the place of your wedding. Sometimes we forget little things that brought us together in the first place, and this is a perfect reminder of those first, purest emotions and feelings. 
2. Sign up for classes together
Whether he'll join your yoga classes, or you'll join his weight-lifting classes, bonding over the same activity will bring you even closer. Or simply start something new together. 
3. Simply go for a drive
But there is more to it than a drive. Sometimes being spontaneous and adventurous will make for the best time of your life.
Both of you will be out of your comfort zones while you are out and exploring, and that's where the adventure starts.
You don't know what you might stumble upon this Valentine's Day.
4. Finally, nothing says Love more than spending time with your loved ones. 
If you have kids, you might opt to stay at home instead, or at least do something that everyone in the family would love.
And that might be even the best choice from everything mentioned above.
Bonding as a family is the ultimate proof that your LOVE is growing and standing strong.
---
Happy Valentine's Day Everyone!

What are you getting for your husband?
Comment below :)