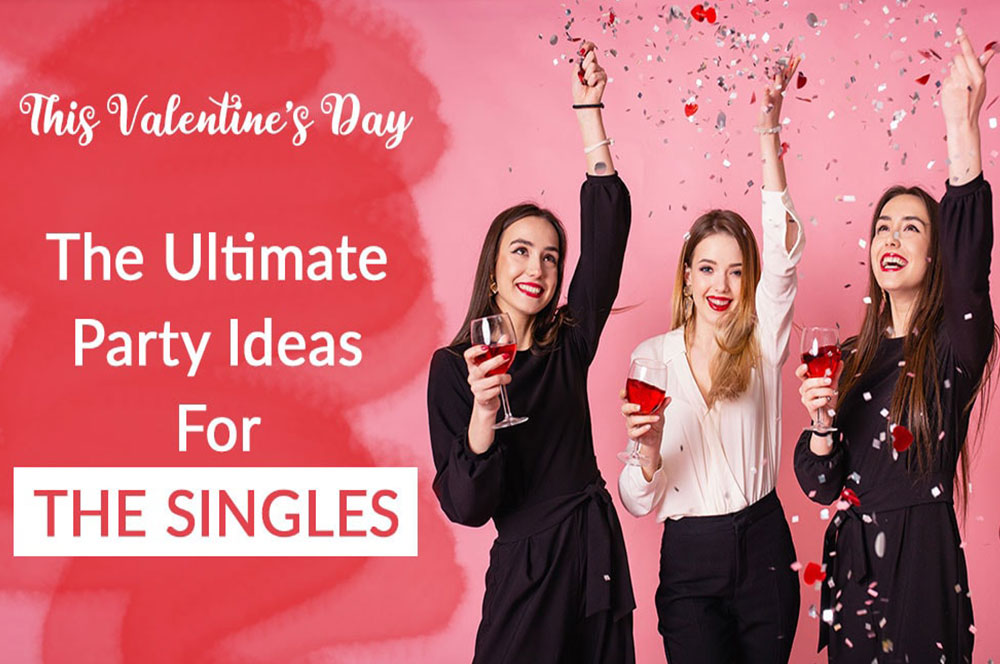 Yes. it's that time of the year again - Valentine's Day!
And many people have different feelings about it. 
For some, it's a perfect reason to go on a romantic date, exchange gifts and eat lots of chocolate.
For others, it's an overrated holiday that only highlights their single status.
Now, this might sound like a cliché, but honestly, being single on Valentine's Day is awesome!
And not for some made-up reasons, like you might save some money, or because being in a relationship is boring, or watching Netflix alone is better than as a couple. 
No. Being single on Valentine's Day is awesome for a much better and bigger reason:
To Throw The Best Valentine's Day Party Ever!!! (For The Singles)
(That sounds like a good enough reason for me!)
And we are here to help.
Let's break this up in simple steps.
STEP 1: Choose the ultimate theme of the party and throw a decoration or two (you don't want an average party, right?)
Your Valentine's Party for the singles should fit your personality and tastes. You know that everyone has a different vibe, so choose one that matches the kind of experience you want to create. 
Whether you chose a classic Galentine's Day Party with your gal-pals, or mixed up party for all your single friends, the theme will set the tone of the party and everyone will know just what to expect. 
We will guide you through 3 of our favorite themes, but there are lots of resources where you can create your own theme.
OUR TOP 3 PARTY THEMES
Photo credit: apumpkinandaprincess.com

This is the best choice for a group of friends who love to dance.
But, who doesn't love a bit of glow in the dark fun at a party, anyway? 
Make your whole place glow, including yourself with these glowing party ideas. 
i) Use black lights to make everything glow in the dark.
ii) Ask your friends to wear plain black or white t-shirts (best for neon glow fun).
iii) Use glow sticks in any color for everything you can possibly think of: bracelets, table decorations, and more
Click here for more glowing ideas.


Bring the tropical summer back earlier with an all-time favorite Tropical Hawaiian party. 
This is a great choice of party theme if you want a relaxed and chill-out atmosphere.
A must-see video for an easy table setting that you can use it as a buffet setting, too.
Video credit: Cottage Life

And here are easy-peasy cocktails and tips on how to make your drinks glow.
 Video credit: Glow Party World


2. Tropical Party Food And Drinks
At parties like this, every detail counts. And the food is one very important detail.
Check on these recipes, and click on the image for more, you'll be drooling immediately.
Tropical Foods to Try Out:
Photo credit: nobiggie.net

Tropical Cocktails to Try Out
Bring the islands' spirit with these famous Hawaiian cocktails: 
ii) Hula Dancer
iii) Rum Punch
No one can resist those colors.

Photo credit: Kaizen Nguyen on Unsplash

3. Glam Night Food And Drinks
If you can make your food glitter, you can make anything glitter. These ideas are so fun and irresistible. Check out the links for the recipes.
Glittery Glamorous Foods to Try Out
iii) Glitter Popcorn
Photo credit: Sugar Hero


And apart from the champagne, check out these glittering cocktails for an ultimate glam vibe.
Glamorous Cocktails to Try Out
Photo credit: A Beautiful Mess


Need more ideas? You can check out 101  really good party food ideas from Dany Meyer. She is a food blogger and surely will have something for your taste.
---
STEP 4: Make time for games  
If there are more people at your party, you might need some ice-breakers games, just to start the party right. You will sure to have a lot of fun with these games below.
1. Glow In The Dark Party Games
i) Nighttime Twister- Take a traditional Twister game and paint over it with glow in the dark paint! (don't forget to do the spinner too). We're sure it will be more fun than the regular game.
ii) Glow In The Dark Bowling - Fill 6 clear bottles with water and a glow stick (those will be the bowling pins), choose a ball that glows or lights up, and have fun! 
iii) Glow Charades - Glow necklaces, bracelets, and glasses make this game challenging and fun! Let the performer pick an action card out of a box (ie juggling, running, archery, moonwalking). Everyone will need to guess the action... by the way the glow items move on the performer, it will be a lot of fun to watch!
2. Tropical Party Games
Video credit: Cityline


i) Hula Hoop Till You Drop Contest - That has to be fun on any given day, but much better on a tropical party contest!
ii) Pass the Orange Game - Two teams form a line…each team has an orange and passes it from person to person under their chin – no hands allowed! The first team that passes the orange all the way down the line wins!
And last but not least...
iii) Limbo Rock - Get in the mood with some Hawaiian tunes and just dance, dance, dance.


3. Glam Party Games
i) Treasure Hunts - That's right. We said Treasure Hunts. This isn't a game for the kids only. Create challenging treasure hunts for adults!
ii) Who is It? - This addition to the adult party game ideas list will truly leave you wondering who is it? See if you can guess! You'll find out some great fun-facts about your friends and all get to know each other better.
Finally...
... if you need more ideas, watch this video and adapt the games you like according to your party theme. 
Video credit: Outscored


---
STEP 5: Have a Secret Santa (or Galentine) Gifting
Everyone will be happy to go home with a gift from the best Galentine's Day party ever. 
Or treat yourself anyway. Because you deserve it for throwing that amazing party!
We made a short list of perfect gifts for you and your girlfriends, and also check out the list for gifts for guys here. 


OUR 5 FAVORITE GIFTS FOR SINGLE LADIES

Why We Chose It?
We love these earrings as they are a perfect reminder to focus on yourself or on unblocking and balancing on any aspect of your life. They have a modern and elegant design, and for sure will turn some heads, too. The set comes with 7 pairs of earrings representing the 7 chakras. Choose one or all of them... they are a perfect treat for yourself or as a gift. 
What Do Others Think?
Jasmine L.: So unique! I have seen a lot of 7 chakras bracelets but never seen earrings like this. My favorites are the heart chakra and root chakra earrings. I received so many compliments in my yoga class

 

Dean: I like that these earrings are hypoallergenic because I have sensitive ears. They are all so pretty, I have hard time to decide which one to wear that I asked my 3-year-old daughter to pick for me. She loves choosing earrings for me.
---
Why We Chose It?
This 12-Week Journal is the Ultimate Mindfulness, Gratitude, and Goals Planning Journal that you will ever need to 10x your productivity and happiness. It is scientifically designed to get you unstuck, inspired, empowered and excited about life again. We love it because it helps you to create new positive habits, set goals, calm your mind and focus, and track all those specifications through already set pillars in the journal. It contains daily to-do lists, weekly reflection, a calendar, basically everything you need to stay focused and organized. Many people are raving about how this journal has helped them to achieve work-life balance in only 12 weeks.
What Do Others Think?
Miss Carly Barrett: Absolutely love this journal, I have had one before and I absolutely loved writing in it. The journal definitely helped me to organise myself and understand what I was doing through my day

 

Anja Schmidt: A lovely way to focus energies positively on all life areas...spend a little more time at the end of the week to review and reflect before considering how to move forward and the daily reflections are a simple top up that keep you on track. Beautiful presentation.
---
Why We Chose It?
This is a great gift for someone who deserves to be celebrated for who they are, including yourself. You can choose a preferred fragrance, and they will include a card with your personalized message if you wish to. The bath salt and the candles are a perfect way to treat yourself or someone else to a home spa. The candles are made by women artisans, and the set includes a story about the woman who made it. It's an inspiring gift that gives back. 
What Do Others Think?
Jan Davis: Prosperity Candles are the ONLY scented candles that I can have in my house. The candles are beautifully packaged and inscribed with inspiring quotes like, "Find out who you are, and be that person" (Ellen Degeneres) are sweet to have around.



Beth Mayr: My mom got these as favors for my bridal shower - customized with a label about our wedding, smell awesome, and are socially conscious! They were a total hit!! Thank you all!
---

Why We Chose It?
We love this face cosmetics so much because its manuka honey-based cosmetics are literally food for your skin. The products are made with all-natural ingredients, so it is suitable to apply to any type of skin, even safe for kids who have the most delicate skin. Rest assured, you won't get the burning sensation or irritation like some cosmetics brands out there, Au Natural Skinfood products are that good! They also have subscription boxes, where you can choose your preferred products, and you'll get them delivered every two months. It's a real treat for you, your skin, or for someone close as a gift. 
What Do Others Think?
Elle: Absolutely brilliant skin care products. Beautiful delicately scented and after using the day cream, night cream and toner for a very short time, I can see and feel a difference. I have used many other products and feel I have finally found a company I can trust. 

 

Amanda McGlenchy: I tried the "repair multifunctional Manuka honey lip balm" on both my sunburnt lips and my son's eczema that had flared up whilst travelling in Queenstown.
It's amazing!! Soothed and nourished my lips so quickly and my son's eczema cleared up within 2 days of use.
---
Why We Chose It?
Why you would drink regular tea when you can grow one at home? This gift set comes with non-GMO Chamomile seeds, tea infuser, and a mug, so you can enjoy the results of your hard work. Make time for yourself every day to relax and unwind while taking care of your chamomile plants. We love it because it comes with the growing medium for the plants, plant food, and instructions, and it makes gardening look very easy.  
What Do Others Think?
Elle: Can't wait to start this grow kit. Chamomile is one of my favourite teas because it is relaxing, peaceful and delicious. This year I am focusing on my life growth and what a better way to represent it. Grateful and blessed

 

Zach: We've got great gifts & decor for those who love to play around in the dirt (or water with our hydroponic grow kits from Oprah recommended ModSprout!)
---
At the end of the day, if you're having fun, then you're definitely creating the same kind of experience for your guests — an experience everyone wants on this under-appreciated holiday.
So tell us what you're planning for Valentine's Day.
Share your party ideas, insights and recommendations below, and let's get a conversation started about how to throw the perfect un-Valentine's Day party ever!
What are you doing this Valentine's Day?
Tell us below :)